This article is about the series as a whole. If you are looking for the show's eponymous character, see Samosa.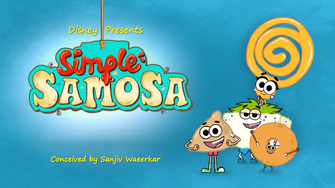 "Aa gaye chaar dost, badalne aapke life ka taste! (These four friends have arrived to change the taste of your life!)" ― Official tagline
Simple Samosa is an Indian children's animated series created by Sanjiv Waeerkar and animated by his production company Ice Candy. It premiered on 14 May 2018 on Disney Channel and initially only aired on that channel, but as of 2019 it also airs both new episodes and reruns on Disney Junior. All episodes are around 10 to 11 minutes in length. The show's original language is Hindi, but it also has English, Tamil, and Telugu dubs.
The first season premiered on 14 May 2018. The second season was announced in November 2018 as part of that year's Anifest India festival[1] and, according to series creator Sanjiv Waeerkar, was originally scheduled for Diwali 2019 before having its premiere delayed for unknown reasons[2]; it ultimately premiered on January 20th, 2020 instead.
The series is viewable on Jio's JioCinema app as of December 2018 and on Disney+ Hotstar as of March 2020, with the first 30 episodes being added to Disney+ originally before the rest were made available in December 2021. On Disney+, the show has a rating of U, meaning it is suitable for general audiences.
Plot summary
Samosa, Dhokla, Jalebi, and Vada, four excitable children who live in Chatpata Nagar, go out to play and explore, and also to save the day when trouble is afoot.
Production staff
Series created and directed by: Sanjiv Waeerkar
Creative consultant: Arnab Chaudhuri
Dialogues by: Nihar Saqib
Editors: Sagar Mangela, Hrishikesh Kanhere, Avinash Khandekar
Dubbing studio: Aditya Sorap, Studio VSX (Mumbai)
Animated by: Ice Candy
Episode list
Episode number
Episode title
Description
1
"Sumo Momo"
Samosa fights the wrestler Sumo Momo.
2
"Chutney Dam"
Samosa and his gang are blamed for Chatpata Nagar's chutney supply disappearing.
3
"Makkhi Makkhi!"
Jalebi has to remove a fly from her head without anyone finding out.
4
"Dadi Ke Saath"
Samosa brings his friends along for a visit to his grandma's house.
5
"Spa Wars"
The gang tries to stop a blooming rivalry between two spas.
6
"Meethi Masi"
Samosa tries to shoo his aunt and cousins out of his house when he finds them to be annoying.
7
"Tutti Frutti"
Samosa and Vada search for the mayor's daughter, Tutti Frutti, when she runs away.
8
"Cupcake Gang"
The sugar-crazed Cupcake Princess pays a visit to Chatpata Nagar.
9
"Carnival Chaos"
Samosa helps Vada through a mysterious secret ride at the carnival.
10
"Maa Mooli"
Dhokla gets hit by some bad luck, and the gang goes to Maa Mooli to fix it.
11
"Jalebi's Birthday"
Jalebi worries her friends may have forgotten about her birthday.
12
"Franky Dayaloo"
The actor Franky Dayaloo gets everyone worried when he stages a protest.
13
"Cultural Programme"
The gang tries to keep Vada from playing his terrible violin music at the Cultural Programme.
14
"Chhote Rajaji"
Samosa and friends investigate when people start strangely coming down with a spiciness illness.
15
"Anda Bhatija"
Samosa meets a fried egg alien that lands in Chatpata Nagar.
16
"Doctor D"
Dhokla becomes a celebrity after his friends block him during his trip abroad.
17
"Sollid Survival"
Samosa becomes a contestant on the reality TV show Sollid Survival.
18
"Shakti Samosa"
Samosa goes to the gym to become muscular like Shakti Samosa.
19
"Comic Book"
Jalebi writes a story about Samosa, and Vada and Dhokla add on to it.
20
"Cricket Match"
Samosa is surprised to learn that his friends are playing in the same game of cricket as he is.
21
"Jaa One"
The gang goes on an undersea adventure.
22
"Tufaan"
Samosa becomes obsessed with riding his new cycle, the Tufaan 5000.
23
"Hair Today Gone Tomorrow"
The gang tries to find a cure for Dhokla's sudden hair loss.
24
"Sabse Sweetest Kaun?"
King Royal Falooda does not take it kindly when he finds out Dhokla is considered the sweetest in the land.
25
"Buntantra Divas"
The gang prepares to compete in Chatpata Nagar's Bun Race.
26
"Kheer"
Samosa receives a bowl of kheer that causes chaos in town.
27
"Hakka"
Samosa is carried away to a mysterious castle where a woman named Hakka wants to marry him to break a curse.
28
"Dhakkad Race"
The gang participates in the Dakkad Rally race.
29
"Samosa Mama"
Samosa must prove himself innocent in court when Cham Cham blames him for a kidnapping.
30
"Banana Fontana"
Samosa disguises himself as the popstar idol Banana Fontana.
31
"Pimple Samosa"
Samosa develops a talking pimple and tries to get rid of it.
32
"

Ek Do Kadhai

"
???
33
"

Heat Wave

"
???
34
"

Museum

"
???
35
"Time Freeze"
Samosa fears that time has stopped for everyone and everything but him.
36
"

Super Blue Comet

"
???
37
"

Rainy Day

"
???
38
"

Waiting For Rakesh

"
???
39
"Dhokla Typewriter"
???
40
"

Camp Kadhai

"
???
41
"

Bhago Samosa

"
???
42
"

Sauce Awakens

"
???
43
"

Vinash Vaqt Aur Vaccum

"
???
44
"

Super Samosa

"
???
45
"

Coba Cake Singh

"
???
46
"

Paushtik Pakwaan

"
???
47
"

Talent Hunt

"
???
48
"

Vikasat Vadu

"
???
49
"

Tea or Coffee?

"
???
50
"Aampur Ke Choley"
Samosa, Dhokla, and Vada seek to find the dangerous dacoit Jalebi.
51
"Afwayein"
???
52
"Simple Hitchki"
Samosa gets help from his friends to figure out a cure for his hiccups.
53
"

Raja Raja Chola

"
???
54
"

Hurricane Harinder

"
???
55
"

Gnocchi Gnocchi Who's There

"
???
56
"Kasturi Khushbu"
Samosa goes around the world to find the source of a smell he likes.
57
"

Kabhi Khushi Kabhi Shalgam

"
???
58
"

Freddy Uranus

"
???
59
"Guest of Samosa"
In this clip show episode, Samosa and his gang wonder what odd visitor he will have next.
60
"

Heroic Fail

"
???
61
"One Two Ka Goal"
???
62
"

Rosy Roti

"
???
63
"Tip Top Tip"
Samosa accidentally breaks his tip while training for a contest and spends a day at Camp Chill.
64
"

Lime Patrol

"
???
65
"

Soost Sauciety

"
???
66
"

Dekho Magar Pyaar Se

"
???
67
"Patang Hurdang"
Vada is sent into the sky when he flies Samosa's kite in a kite festival, and Samosa and the others have to get him back down safely.
68
"

Kya Tum Chheenkh Ho?

"
???
69
"

Samosa Delivery

"
???
70
"Moong Fu Samosa"
Samosa is trained in the art of "moong fu" to prepare for a wrestling match with Sumo Momo's brother,

Judo Momo

.
71
"

Party Pakwaan

"
???
72
"

Number One Fan

"
???
73
"

Khali Samosa

"
???
74
"

Bhoot Jhalokia

"
???
75
"Mayor Gaayab"
When Royal Falooda runs away and leaves his job open, everyone scrambles to take over as the mayor of Chatpata Nagar.
76
"

Puppy Paneer

"
???
77
"Misal Power"
???
78
"Telephone Bhoot"
???
79
"Space Snax"
To make the sun bright again, the gang undergoes special training under the guidance of Melon Musk and is sent to space.
80
"Bonda Kumari Kabhi Na Haari"
Bonda Kumari, a childhood friend of Vada who strained her friendship with him by winning at everything, visits the beach during a festival.
81
"

Khaachu Peechu

"
Samosa and co. go to the museum and learn about a special chutney that is very hard to find.
82
"

Oil Is Well

"
???
83
"Mission 925"
???
84
"Dubki Samosa"
???
85
"Kohra Ka Keher"
???
86
"Kakadi Kabaddi"
???
87
"Toast Malone"
Samosa tries to intervene when Dhokla becomes addicted to the music of a rapper named Toast Malone.
88
"

Gham Ka Saathi Chingum

"
???
89
"

Peechey Paddey Paapad

"
???
90
"

Tingu Tin

"
???
91
"

Robo Hawaldaar

"
???
92
"

Chal Paddi Chatpatti

"
???
93
"

Yaar Mera Superstar

"
???
94
"

The Samosa's Speech

"
???
95
"

Ninja Dhappa

"
???
96
"

Lucky Latoo

"
???
97
"

Chamatkaari Chammach

"
???
98
"

Secret Library

"
???
99
"Khelo Samosa"
Samosa and his gang investigate mysterious disappearances across Chatpata Nagar and travel into an arcade game to save the missing citizens.
100
"

Hum Aapke Hai Corn

"
???
101
"

Sub Ko Khatra

"
???
102
"

Sabse Achhe Shoes

"
???
103
"

Barfeela Badshah

"
???
104
"

Social Samosa

"
???
Other media
Trivia
Simple Samosa has two dubs for each language it is dubbed in. The two same-language dubs have several differences with each other, such as certain pieces of dialogue being changed and the theme song having its lyrics changed. The first set of dubs only covers Season 1 and is the one that aired on TV first, while the second one covers Seasons 1 and 2 and eventually replaced the first set of dubs for televised airings; the second set of dubs is also the one made available on Hotstar.
Simple Samosa has accumulated over 25 million viewers since its premiere in 2018.[3]
This was one of the very first Disney India shows to be made available on the Indian version of Disney+, being one of its launch titles.
Gallery
References
External links